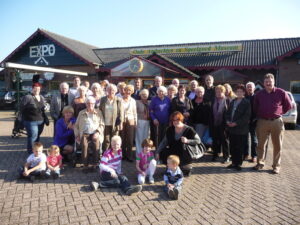 The Sparreboom family
Where do they come from, where are they going?
As far as we know, we are not of noble birth. That was not the reason to find out our family tree. Most people from this family have made themselves of service in our society in many ways. There are seafarers, school principals, papermakers, CFOs, metal workers, artists, councilors, footballers, farmers, merchants, engineers, carpenters, general practitioners and so on.
IJsselmonde
An important part of the family comes from IJsselmonde, a very old village that has been included in Rotterdam since 1941. The area was mentioned as early as 1072, a number of castles were built over time and all were destroyed. It was here where 'Adriaen Adriaensz.' was born around 1540. And where all Sparrebomen stem from …
Groningen
Or not? Because another significant part of the family comes from Oude- en Nieuwe Pekela in Groningen. And they have lived there for at least 10 generations. So we cannot say for sure whether the different branches belong together or whether it is a coincidence that people have adopted the same surname. The primeval father from this branch is called Jacob Jans and was born around 1595.
Future
Sparrebomen no longer only live in the Netherlands, we also find them in other countries in Europe, such as Belgium, Germany, England and France. But also in Australia, Canada, the United States and South Africa. In short, real globetrotters, those Sparrebomen.